There are 18 Outdoor Pickleball Courts in Spruce Grove, located next to the Henry Singer Ball Park. The pickleball courts are free for the community to use.
Availability
Available on a first come, first served basis, daily between 7 a.m. and 10 p.m. from May to October (weather permitting). 
Court Rules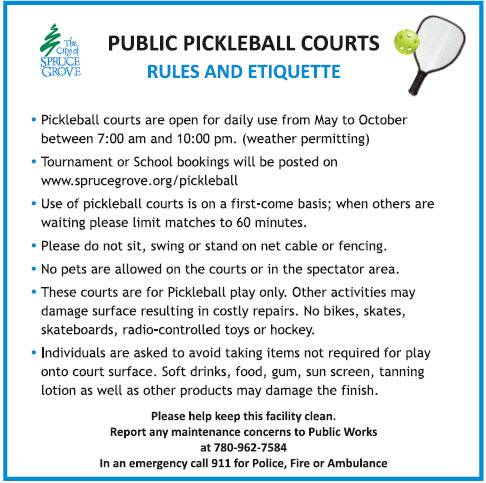 Conditions
To report a concern with the condition of the pickleball courts, please call Public Works at 780-962-7584.
Partners
The Spruce Grove Pickleball Courts are made possible through a partnership between the Government of Alberta, Community Facility Enhancement Program (CFEP), The Parkland Pickleheads Pickleball Club and the City of Spruce Grove.
The Parkland Pickleheads Pickleball Club are a very active community organization that utilize the Spruce Grove Pickleball Courts on a regular basis. If you are interested in learning to play Pickleball or want to check out their schedule visit https://www.parklandpickleheads.com/