Strategic Plan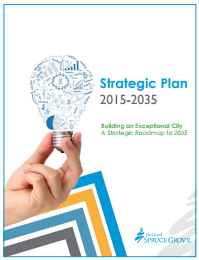 2015-2035 Strategic Plan
The City's 2015-2035 Strategic Plan – Building an Exceptional City outlines Spruce Grove City Council's vision for the future of Spruce Grove and ties together the necessary requirements to purposefully move forward. This includes:
Core values that support the City's mission, or basic purpose;
Strategies that reflect the City's values and mission; and
Goals that must be accomplished in order to realize the vision.
The purpose of the City's strategic plan is to enable all stakeholders who have an interest in the future of the city to share, understand, contribute to and participate in realizing our vision of Spruce Grove as the best place to live, to raise an active, healthy family and to grow a strong, successful business.
The strategic plan also addresses the needs of present and prospective residents, business owners and employees, investors, visitors, civic employees, neighbouring municipalities and their citizens, and any other interested in the future of our city.
The strategic plan is intended to guide and inform the City's future for a 20-year planning horizon. However, it is also important to understand that new challenges, opportunities and issues will emerge during this timeframe. Therefore, the strategic plan will be reviewed on an annual basis, with a further review and update every four years, to ensure it reflects any necessary changes or adjustments that may be required to achieve the City's vision.
Our Best Foot Forward: Spruce Grove 2035
The city we enjoy today is the result of careful planning, governance and management and the city we want to become will require the same. Spruce Grove has positioned itself for further growth, and will continue to do so in the future, with well-developed strategic planning documents that describe the exciting future in front of us, including: the 2010-2020 Municipal Development Plan ("Your Bright Future"), the 2010-2020 Municipal Economic Development Strategy ("Partnerships for Prosperity"), Environmental Sustainability Action Plan, Parks and Open Space Master Plan, Transportation Master Plan, Storm Water Management Plan, Urban Forest Master Plan and the Sanitary Sewer Master Plan. By pro-actively planning for the future, we will ensure we are on the right track for our desired destination.
The vision of Spruce Grove in 2035 includes consideration that the City is innovative and adaptive, providing value-added services that meet residents' needs. We will be an agile, responsive city, resulting in high levels of citizen satisfaction.
Our Vision
Our vision for our community's future in 2035 is that:
Spruce Grove is the best place to live, to raise an active, healthy family and to grow a strong, successful business.
Where people choose to live:
A dynamic city with an exceptional quality of life
Through high quality municipal services, Spruce Grove is a safe, dynamic urban centre with an exceptional quality of life and is a welcoming regional gathering place
Where people choose to raise a family:
A leading recreation, leisure and sports community
Spruce Grove provides exceptional, diverse and high quality leisure, recreation and sports opportunities, complemented with a respected arts and culture environment
Where people choose to grow a business:
A strong, diversified regional business centre
Through innovative and supportive business development, Spruce Grove is a prosperous, self-sustaining regional economic home to competitive, successful commercial and industrial companies
Our Mission
The vision statement captures what the City wants to achieve and the mission statement describes how we will achieve it:
Our mission is to build an exceptional city through innovation, leadership and committed public service.
Our Core Values
These values guide our commitment to moving forward as an organization to realize our vision for the future of Spruce Grove:
Leadership
Openness and responsiveness
Service excellence
Accountability
Honesty and integrity
Accountability
Our Underlying Principles
Just as our values are reflected in everything we do, our decisions and our actions must be aligned with the following basic principles:
Sustainability through sound economic development
Leadership in affordable quality service delivery
Affordability through prudent fiscal management
Leadership in collaboration to ensure best value for all
Building a complete community for all
For more information see the 2015-2035 strategic plan