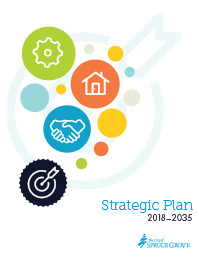 2018-2035 Strategic Plan

 
The City of Spruce Grove is at an important juncture in creating and implementing the vision for the community's future. As Spruce Grove continues to grow, the City is facing additional pressures to continue providing quality level services to residents, businesses and visitors. At the same time, the City is being presented with new opportunities and ideas that can have a positive impact on shaping Spruce Grove's future. By identifying these challenges and opportunities, as well as determining how the City will proactively prepare for them, a strategic roadmap for Spruce Grove can be developed.
The City's strategic plan outlines Spruce Grove City Council's vision for the future of Spruce Grove and ties together the necessary requirements to purposefully move forward. This includes:
Core values that support the City's purpose;
Strategies that reflect the City's values and purpose; and
Goals that must be accomplished in order to realize the vision. 
 The purpose of the City's strategic plan is to enable all stakeholders who have an interest in the future of the city to share, understand, contribute to and participate in realizing our vision of Spruce Grove as the best place to live, to experience community and to grow a strong, successful business.  
The strategic plan also addresses the needs of present and prospective residents, business owners and employees, investors, visitors, civic employees, neighbouring municipalities and their citizens, and any others interested in the future of our city.
Term of the Strategic Plan
The strategic plan is intended to guide and inform the City's future for a 20-year planning horizon.
However, it is also important to understand that new challenges, opportunities and issues will emerge during this timeframe. Therefore, the strategic plan will be reviewed on an annual basis, with an extensive review and update every four years, after the election, to ensure it reflects any necessary changes or adjustments that may be required to achieve the City's vision.
The most recent review and update to the plan occurred in 2018, following the 2017 municipal election.
View the updated Strategic Plan