Corporate Plan
The corporate plan is the City's principal guiding document for governance, community development, and service delivery. As part of the corporate planning process in 2017, the City reviewed the 2015-2035 strategic plan and developed the corporate business plan, department business plans and the fiscal plan.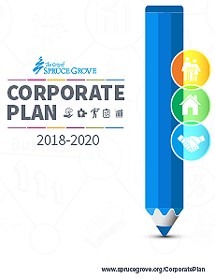 See the 2018-2020 Approved Corporate Plan
Building an Exceptional City, the City's 2015-2035 strategic plan   , outlines Spruce Grove City Council's vision for the future of Spruce Grove and ties together the necessary requirements to purposefully move forward. 
The strategic plan is built on three themes:
Where people choose to live
Where people choose to raise a family
Where people choose to grow a business
Each initiative and project included in the corporate plan is directly linked to one or more of these themes from the strategic plan.
City Council works closely with City Administration to review the corporate plan. This occurs during a series of designated Committee of the Whole meetings that focus entirely on reviewing the prospective corporate plan. This year those meetings were held on Nov. 6, 7 and 8, 2017.
City Council approved the 2018-2020 Corporate Plan   on November 27, 2017. A summary of the 2018-2020 Corporate Plan   is also available. 
The goal of the plan is to continue providing residents with a high quality of life at an affordable rate, while also staying the strategic course of municipal economic sustainability. The corporate plan outlines the City's plans and projects recommended for the next three years.