The Eco Centre is a drop-off facility where residents can dispose of items that can't be placed in their black waste cart, blue recycling bag or green organics cart. Household hazardous waste, electronics, appliances and extra garbage are also accepted at the Eco Centre.
Due to the current situation with COVID-19, residents are encouraged to use the Eco Centre for critical needs only; however if you must visit the Eco Centre, please be aware of the following guidelines that are now in place for safe use:
All household garbage must be bagged and tied up before being dropped off; loose waste will not be accepted.
Residents are required to practise physical distancing while at the facility.
Staff are unable to assist in unloading items from your vehicle.
Payment
The Eco Centre will only accept debit, Visa and MasterCard. Remember to come with your card.
Accepted items
Wondering what you can bring to the Eco Centre? View the list below, or get the app! 
Accepted items*

Disposal fees**

Blue bag recyclables
No charge
Construction material or wood
$18 per 1 cubic metre (1/2 level truck box)
$36 per 2 cubic metres (level truck box)
$54 per 3 cubic metres (heaping truck box)
Corrugated cardboard
Flattened, no larger than 2 ft. x 2 ft.
No charge
Electronics
Computer monitors and processors, cell phones, televisions, VCRs and DVD players, printers, laptops, stereos, microwaves.

No charge
Garbage, furniture and other household items

$3 per bag (up to equivalent of 100L)
$5 per small item
$10 per chair
$12 per love seat
$18 per sofa (one piece) or sofa bed
$20 per mattress
$20 per box spring
$18 per 1 cubic metre (1/2 level truck box)
$36 per 2 cubic metres (level truck box)
$54 per 3 cubic metres (heaping truck box)

Clear glass food jars


Must be clean and free from dirt or residue.
Paper labels on jars are acceptable.
Plastic lids, plastic rings, and plastic labels must be removed and placed in the black waste cart.
Metal lids can go in the metal bin also located at the Eco Centre.
Coloured or broken glass jars will not be accepted and must be placed in a black waste cart for disposal.

No charge
Household hazardous waste
No charge
Metal
No charge
Organic waste
Up to 3 cubic metres. If bagged, bags must be compostable. 

Tree branches must be less than 10 cm in diameter and 2 m in length.

No charge
Propane tanks
$2 per tank less than 1 lb.

$5 per tank between 1 lb. and 30 lbs.
Over 30 lbs. - Not accepted

Tires
39 inch diameter or less, rims removed.
No charge
White goods NOT requiring CFC removal
Stoves, washers and dryers.
 No charge
White goods requiring CFC removal
Refrigerators, freezers, air conditioners and water coolers. RV refrigerators are not accepted.
 $20 per appliance
* Load acceptance at discretion of attendant.
** Values at discretion of attendant.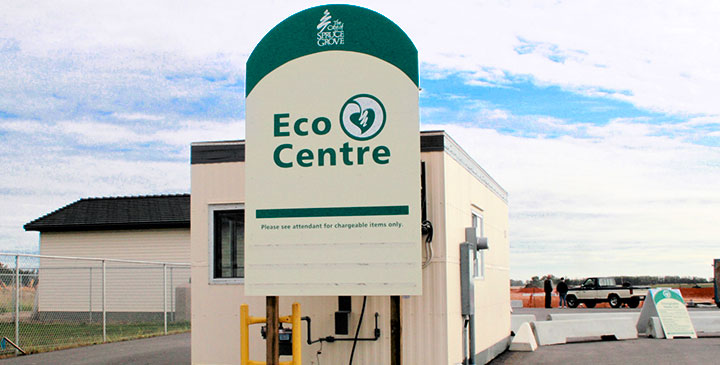 Address
Spruce Grove, Alberta T7X 3S2
Hours of operation
Monday–Saturday: 10 a.m.–5:30 p.m.
Sunday: Closed
Statutory holidays: Closed