Safe Homes | Safe Communities
The RCMP is Canada's national police service. Proud of our traditions and confident in meeting future challenges, we commit to preserve the peace, uphold the law and provide quality service in partnership with our communities.
Detachment Services
Tri-Municipal Drug Section
General Investigations Section (Serious Crimes)
Crime Reduction Unit - Spruce Grove, Stony Plain and Enoch Cree Nation
Police Dog Services
Criminal Intelligence Analyst
Community Policing
Locally we provide several community enhancement programs which include:
Rural Police and Crisis Team (RPCT) - mental health therapist paired with a police officer, to assess and stabilize people experiencing mental health crisis.
Restorative Domestic Offender Program (R-DOC) - facilitating a comprehensive domestic violence response, addressing both victim and offender needs.
School Resource Officer - in Spruce Grove Composite and Memorial Composite.
Public Safety Compliance Team - a partnership with Fire, Police, and Alberta Gaming and Liquor Commission, to ensure safety in licensed premises.
Crime Free Multi-Housing - a partnership with property managers, Police, and tenants focused on keeping illegal activity out of rental properties.
Commitment to Our Communities
The employees of the RCMP are committed to our communities through:
Unbiased and respectful treatment of all people
Accountability
Mutual problem solving
Cultural sensitivity
Enhancement of public safety
Partnerships and consultation
Open and honest communication
Effective and efficient use of resources
Quality and timely service
Core Values of the RCMP
Integrity
Honesty
Professionalism
Compassion
Respect
Accountability
Service Delivery
If you have any questions, concerns or kudos relating to our service delivery, please feel free to contact us.
Contact Information
Spruce Grove (Parkland) Detachment
91 Campsite Road
Spruce Grove, AB T7X 3Z1
Front desk hours (weekdays, excluding statutory holidays): 8 a.m. to 5 p.m.
Administrative line: 825-220-2000
Non-emergency line: 825-220-7267
The Victim Services Unit utilizes trained volunteers who work with the RCMP to provide the following services:
24-hour crisis response, support and follow-up to victims.
Provide victims with information about the case and the criminal court process.
Referral to community agencies.
Provide victim impact statements.
The Alberta RCMP has a province-wide online crime reporting tool that provides residents in Spruce Grove, along with other Albertans, the ability to report the following property crimes in a convenient and accessible way:
Damage/mischief to property under $5,000
Theft of bicycle under $5,000
Theft under $5,000
Theft from vehicle under $5,000
Lost property
To be reported online, incidents must also meet the following conditions:
No witnesses or suspects
Item(s) lost or stolen must cost less than $5,000
Vandalized property will cost less than $5,000 to repair
There are no items involving personal identity, firearms, licence plates or decals
By reporting these less-urgent crimes online, emergency call takers and members of the RCMP can focus their time and prioritize calls. K Division's Call Back Unit will follow up on all crimes reported online within five business days.
Do you have a security camera outside your home or business? Help Parkland RCMP solve crimes and keep your property, family and community safe by registering your camera with the CAPTURE Camera Registry.
What is the CAPTURE Camera Registry?
The CAPTURE (Community Assisted Policing Through Use of Recorded Evidence) registry is simply a list of camera locations around the community and contact information for each camera's owner. Resident information is kept confidential and is not shared. The program helps Parkland RCMP solve crime faster by greatly reducing the time an officer needs to search for and gather video evidence. Residents and businesses who have video surveillance systems and are willing to share video camera footage when requested, can sign up. If a crime or incident happens in your neighbourhood, investigators may ask for access to your footage.
Why should I sign up?
By registering your camera, you are taking an active role in deterring crime and assisting the RCMP with crime prevention goals in our community. The program helps Parkland RCMP to solve crime faster by greatly reducing the time an officer needs to search for and gather video evidence. Video evidence increases the chance of a successful prosecution and acts as a deterrent for repeat offences.
Do I have to share my camera footage if requested?
No, joining the registry does not mean you are obligated to share your footage. The registry does not give police access to or control over your camera. You can withdraw your registration at any time. Learn more and sign up for the CAPTURE Camera Registry at Parkland Capture.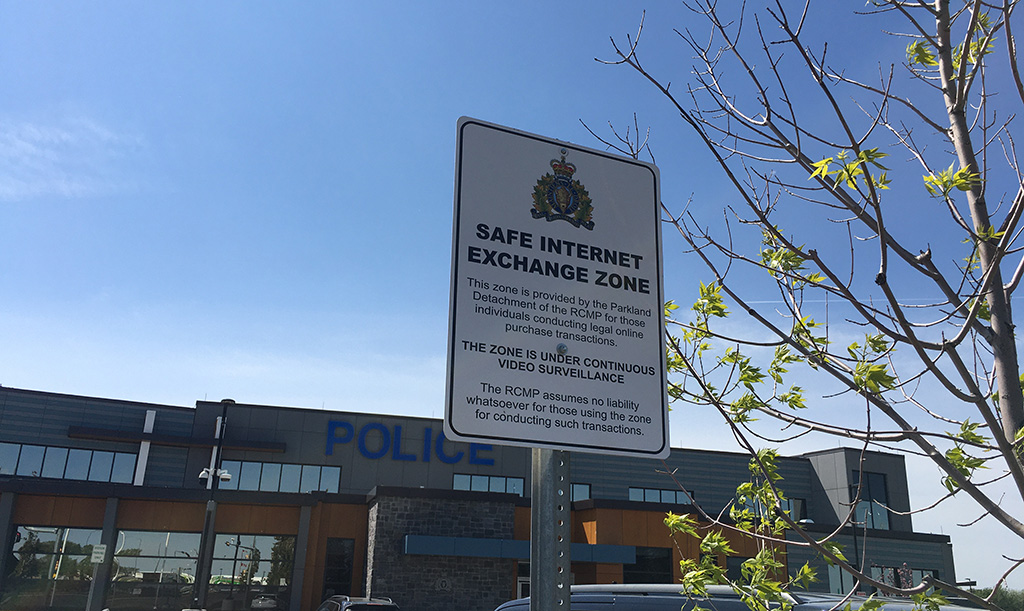 The Parkland RCMP detachment runs a Safe Internet Exchange Zone program to help provide a safe place for people to meet when buying and selling items online.
The Safe Internet Exchange Zone is in the front parking lot at the Parkland RCMP detachment, located at 91 Campsite Road in Spruce Grove, which is under video surveillance. It will be open 24/7, however local RCMP encourage residents to visit during daytime hours. Officers will not be available to supervise these meetings or help people negotiate their sales.
Similar programs are in place in other municipalities in the region, including Edmonton and Strathcona County.
Local families may also use the Safe Internet Exchange Zone as a place to meet when picking up and dropping off their children as part of a custody or visitation agreement.
Theft of catalytic converters and other vehicle parts is a concern. Parkland RCMP has partnered with crime watch groups and local businesses to establish the "Engrave it to Save it" catalytic converter marking program.
Why do thieves target catalytic converters?
There are three precious metals found inside catalytic converters. After cutting a converter out of a vehicle, thieves can sell the metals on the scrap metal market. Additionally, most catalytic converters do not have a serial number, so stolen parts are difficult to trace and investigate.
What is the "Engrave it to Save it" program?
This program involves marking catalytic converters to help police trace these stolen parts and lay appropriate charges for those in possession of stolen property, or trafficking in stolen goods.
How does the program work?
Local participating automotive service facilities will engrave the last eight digits of the VIN (Vehicle Identification Number) onto the catalytic converter while the vehicle is in for service, free of charge (shop fees will apply if the engraving is done on its own). In addition to the engraving, the catalytic converter will have a paint marking applied. This will de-value the metal to a degree and provide another way for metal recyclers and investigators to know if it has been stolen. Customers will also be given a small window decal that indicates that their catalytic converter is police traceable.
Which businesses are participating in the program? 
Several local repair shops have joined the "Engrave it to Save it" program and other businesses have expressed interest in participating and will be added to the list.
Spruce Grove:
Fountain Tire
OK Tire
Bluenose Automotive
CT Automotive
Stony Plain:
Stony Auto
Tirecraft
Mewassin Auto
Binx Auto
G&B Autocare
Alberta Beach:
Jack's Auto Mechanical
Wicked Automotive
Onoway:
Country Automotive
Grand Tire and Auto