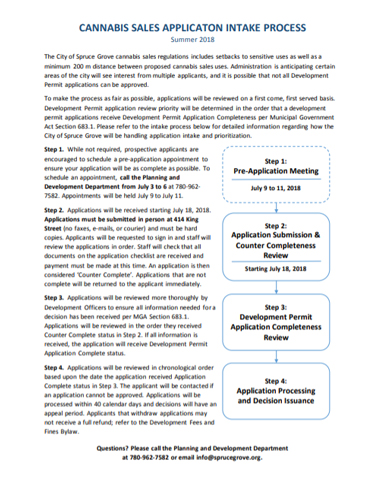 Application Intake Process
The Government of Canada introduced Bill C-45 to legalize recreational cannabis effective Oct. 17, 2018. At the time of legalization, only dried cannabis, cannabis oil and seeds will be legal for purchase and use. In Alberta, private retail stores will be permitted by the Alberta Liquor and Gaming Commission (AGLC) to sell recreational cannabis.
Opening a cannabis retail business in Spruce Grove
On Monday, June 11, 2018, City Council approved amendments to the Land Use Bylaw for the purpose of regulating cannabis-related businesses in Spruce Grove. These amendments will come into effect on Wednesday, July 18, 2018.
The City has approved eight development permits for cannabis retail stores as of October 31, 2018. The map will be updated as additional permits are approved. A comprehensive map of the allowed districts and adopted sensitive use setbacks has also been developed for prospective applicants.
The following outlines the municipal permits required to open a cannabis retail business in an existing structure in the City of Spruce Grove. Development permit applications will be received starting July 18 and must be submitted in person at 414 King St. as a hard copy (no faxes, emails or courier). Applications will be reviewed on a first come, first served basis. Please refer to the Application Intake Process   for information on how applications will be managed and prioritized.
Permits and licensing
In Spruce Grove, the following permits and licences must be obtained from the City prior to opening a cannabis retail business. Note: The City's permit and licensing processes are interdependent with the AGLC Cannabis Store Licence process. Please refer to the diagram below to understand the permitting and licensing order.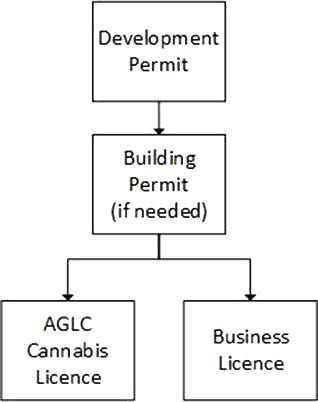 Development permit
A development permit is required to approve the proposed use and ensure it meets the requirements of the Land Use Bylaw. Use our cannabis sales development permit checklist to complete a cannabis sales development permit checklist

 

 to complete a development permit application

 

. The AGLC requires development permit approval from the City prior to issuance of an AGLC Cannabis Store Licence.



Note: A sign permit application will be required, and is subsequent to the development permit for change of use.

Building permit

A building permit is required for a business that is changing occupancies of a building or for structural changes. A determination regarding whether a building permit is required will be communicated to an applicant during the development permit review. Additional information may be requested. To obtain a building permit, a completed building permit application must be submitted, along with specified plans and fees.

Business licence

A City of Spruce Grove business licence is required for every business operating in the city. Application for a business licence may occur upon approval of a development permit, and is issued after all permits and licences are received. The City will issue a business licence and send it directly to the AGLC, which will provide a hard copy to the applicant of the municipal business licence upon pick-up of the AGLC Cannabis Store Licence.

Fire Services inspection

The AGLC requires municipal fire department approval prior to issuing an AGLC Cannabis Store Licence. Requests can be made to Spruce Grove Fire Services — Fire Prevention Office by calling 780-962-4496 or email  .
For information on developing a new building to house a cannabis retail business, please contact Planning and Development at 780-962-7582 or email  .
Timeline