Arc (formerly Smart Fare)

The smart way to use transit
A new electronic fare payment system is coming to the region that will make paying for and riding transit easier and more convenient.
In the future, transit agencies in Spruce Grove, Stony Plain, St. Albert, Strathcona County, Fort Saskatchewan, Leduc, Beaumont, and Edmonton will all be using the same system.
The system includes an Arc card and customers will tap on and off at electronic card readers on buses and at LRT stations. The card acts as your fare. No more messing around with cash, paper tickets, or passes.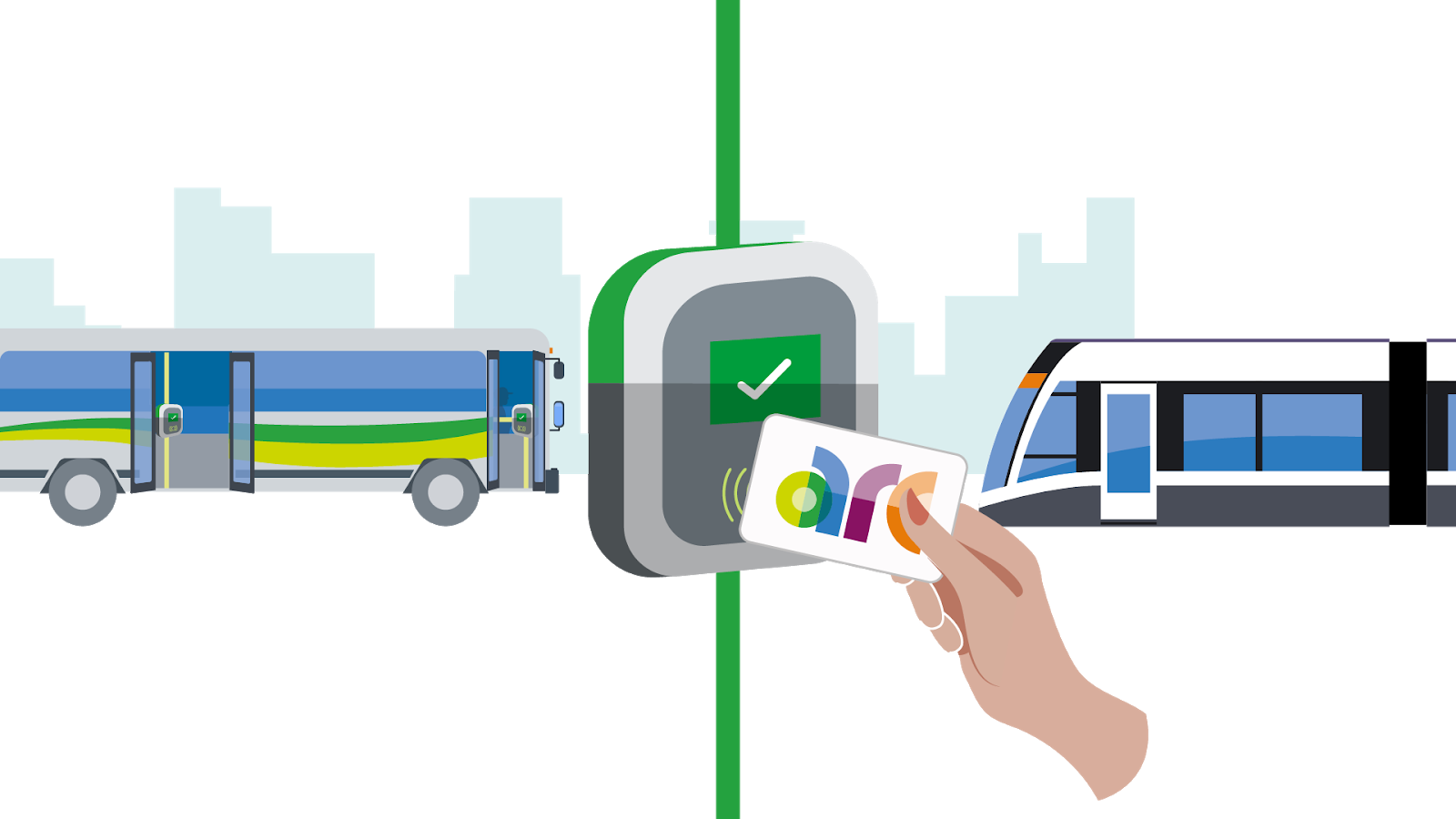 How it works
With Arc, money is stored in a secure online account, not on the card.
Customers will use their online account to add funds, ensure funds are automatically loaded, and manage lost or stolen Arc cards. Multiple Arc cards can be set up under one account to easily manage several transit customers living in the same household.
Travelling
You use your Arc card to tap on at the electronic card reader at the beginning of your journey, at any transfer points, and fares are deducted when you tap off at the end of your trip.
Tapping on and off for each leg of your journey ensures you are charged the lowest fare for your trip.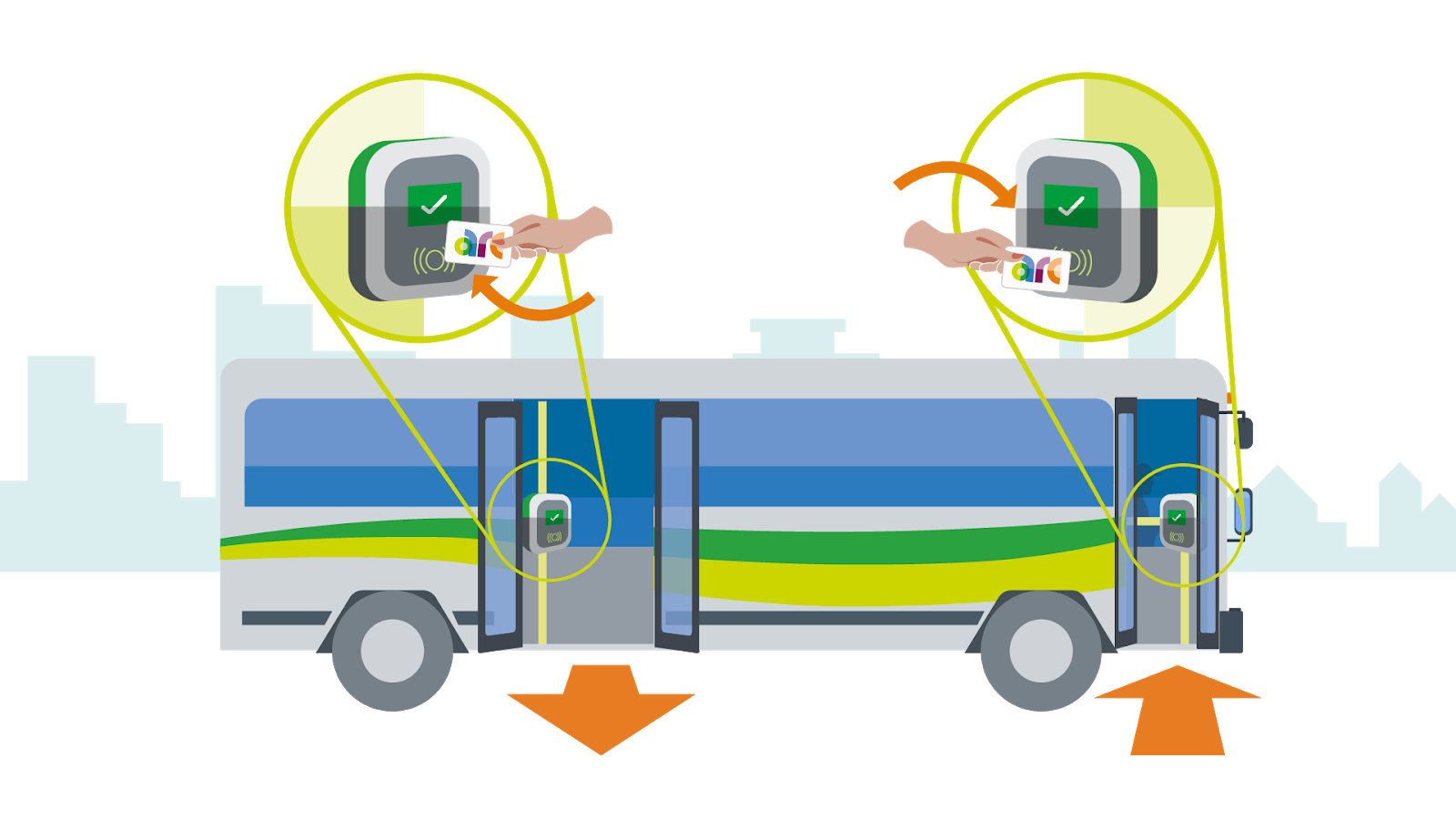 Payment
Pay-As-You-Go (PAYG)
With PAYG, customers can pay for one trip at a time. Adding funds to your account is instant and you can use them right away. This eliminates the need to use cash and paper tickets.
Fare capping
Fare capping places a limit on the maximum amount a customer would pay for individual trips on daily or monthly periods of travel.
For example, if the Spruce Grove Commuter monthly fare cap is set at $135, the customer is charged a single-trip fare each time they board a bus until the cost of those single fares adds up to $135. Once the cap has been reached, you get to travel for free across the entire region for the rest of the month.
Each transit agency will set its own fare cap, so wherever you are travelling, your fare contributes to that agency's fare cap.
Agencies can also set different fare caps for seniors, youth, and low income individuals.
Project timeline
Arc is being rolled out region-wide in phases. The test results will determine when the system is made available to a wider range of customers. With any new technology, testing is an important step that ensures the system works the way it's meant to.
Early launch
The first group of riders to use Arc launched in fall 2021 as students at post-secondary institutions participating in U-Pass became the first eligible group to use the new system.
2022
On January 1, 2022, a select group of regular adult fare riders began to use the Arc system as part of the pilot test. Riders put money into an online Arc account that is linked to an Arc card, and they tap on/tap off buses and LRT stations as they ride anywhere in all seven participating regions.
At this time, unless you are a part of the Arc pilot group, all other riders can continue to pay for transit with monthly passes, paper tickets or cash.
2023
The Arc program will be expanded to include:
Seniors
Youth
Junior/senior high school students
Customers eligible for low income passes
Those who use DATS, and
Regional paratransit services
Initial participation will be voluntary. Exact timing is to be determined.