As Spruce Grove continues to grow, traffic safety remains a high priority for both motorists and pedestrians travelling throughout the city. It doesn't matter if you drive, walk, ride a bicycle or take the bus, traffic safety affects you and your family every day. The City of Spruce Grove encourages you to use these tips to ensure your own safety, and that of others.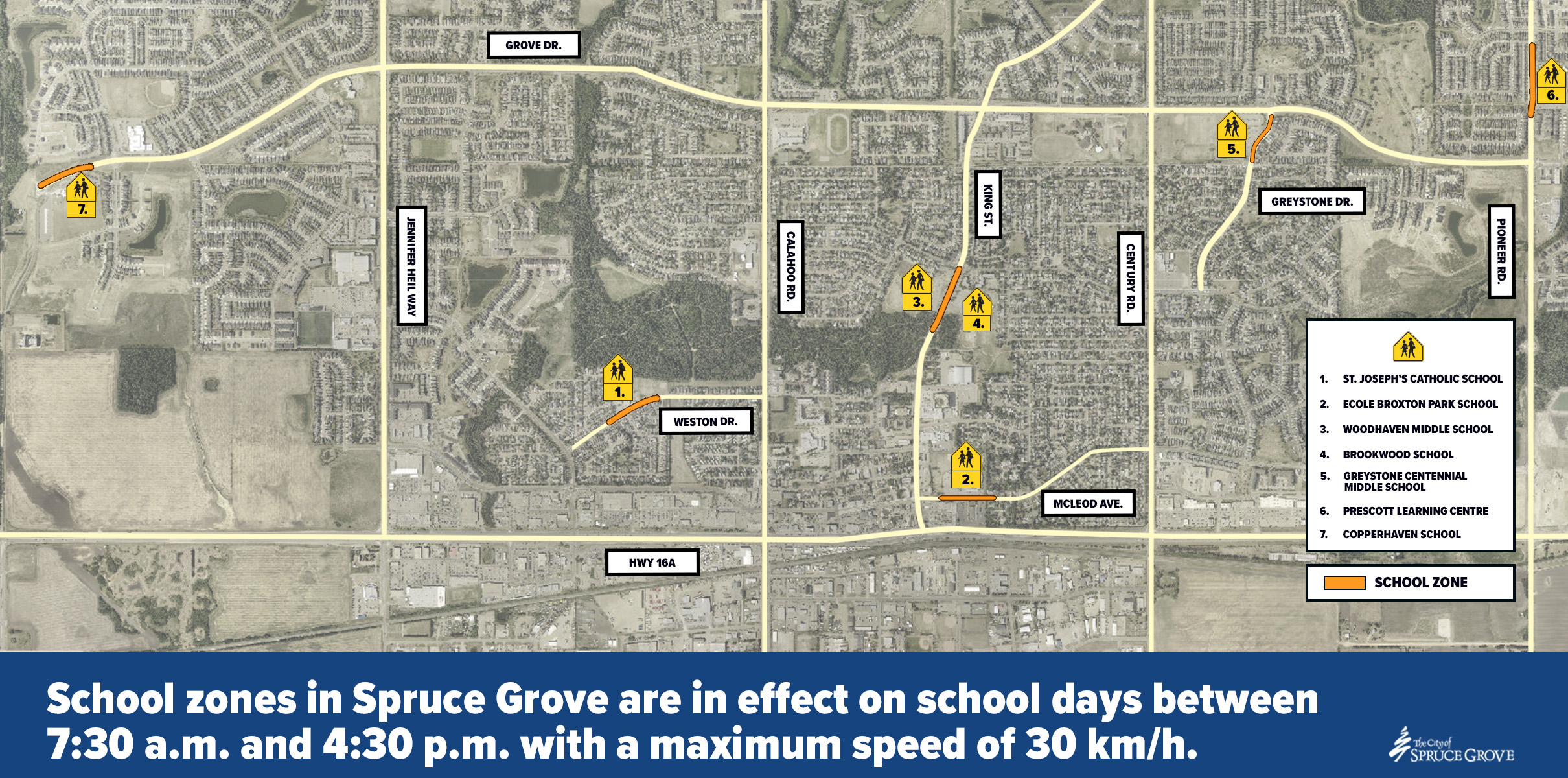 Motorists are required to slow down when driving through designated school zones, and should use extra caution in all residential, school and playground areas. Designated school zones with a maximum speed limit of 30 km/hour are located in Spruce Grove on:

King Street adjacent to Brookwood School and Woodhaven Middle School;
Pioneer Road near the Prescott Learning Centre; and
Greystone Drive between Grove Drive and Greenwood Drive.
École Broxton Park School *NEW*
St. Joseph Catholic School *NEW*
Copperhaven School *NEW*

The speed limit is strictly enforced and in effect during school days from 7:30 a.m. - 4:30 p.m.
Watch for school buses and their stop arms and flashing lights. Never pass a bus that has stopped to let students get on or off, and when a bus is stopped, leave enough room between your vehicle and the bus to allow students to safely cross the street. 
Obeying the rules of the road when driving in close proximity to a school bus will result in safer streets for children in our community and fewer accidents involving school buses and their passengers.
Pay attention at intersections and crosswalks. Watch for pedestrians and obey all traffic signs and signals.
Playground areas are present throughout the City. These areas do not have speed restrictions, but motorists should be aware that children may be present, and they may have to stop suddenly. They have yellow signs that show a person running after a ball.
Playground zones are signed at 30 km/h and motorists are required to slow down.
Even quick trips around the city can be dangerous, so it is important that you and your passengers wear seatbelts whenever you're in the car.
Seatbelts save lives. Make sure you wear yours properly. A seatbelt should fit with one strap pulled snugly across your waist and another across your chest. In an accident, wearing just one or the other could result in you hitting your head or sliding out and away from your seat, potentially causing strangulation.
Research your child's booster seat to learn how to use it properly. It is important to learn how to secure it and how to recognize if your child has outgrown it.
If you are involved in a collision within the Parkland RCMP detachment service area (including City of Spruce Grove, Town of Stony Plain, and Parkland County), it must be reported at the Spruce Grove Collision Reporting Centre (36 Fifth Avenue Spruce Grove, inside the Protective Services Building).
Effective November 17, 2023, the Parkland RCMP detachment no longer processes collision reports. Collisions must be reported in person at the Spruce Grove Collision Reporting Centre, weekdays between 8:30 a.m. and 4:30 p.m.
A Collision Reporting Centre is an independently owned and operated facility where members of the public can report traffic collisions to meet provincial legal requirements and insurance needs. The Spruce Grove Collision Reporting Centre is operated by Accident Support Services International Ltd. and is not managed or operated by the City of Spruce Grove.
A collision must be reported if:
The combined damage to all vehicles and property involved is more than $2000.
There are injuries, even minor.
*Important: the collision must be reported to the closest collision reporting centre to where the collision occurred – not the location closest to your home address.
For more information, visit the Spruce Grove Collision Reporting Centre website operated by Accident Support Services International Ltd.
When approaching a crosswalk be attentive and watch for anyone attempting to cross the roadway. Failing to yield to a pedestrian in a crosswalk or passing a vehicle stopped at a crosswalk can result in a significant fine and demerit points. When a crosswalk is present, pedestrians have the right-of-way and motorists must wait until the pedestrian completely clears the crosswalk - from curb to curb - before proceeding. 
When stopping at a crosswalk, try and stop several vehicle lengths back so traffic in other lanes will be able to see the pedestrian. Remain stopped until the pedestrian completely clears the intersection from curb to curb (medians in the middle of the road are not considered a curb). 
While drivers need to stop and remain stopped until the pedestrian completely clears the intersection, pedestrians can also help by being alert when crossing the road:

Remove earphones, turn off any music, and stop texting or talking on the phone while crossing the street
Follow traffic signals and signs
Wear bright or reflective clothing during low light or poor weather conditions
Make eye contact with approaching motorists before entering the crosswalk
Dismount your bicycle or scooter when crossing the roadway at crosswalks, and ensure you are wearing a helmet and other safety equipment.
Impaired driving applies to drunk driving, driving while under the influence of drugs and fatigued driving. Impaired driving causes slower reaction times, reduces your ability to concentrate and makes it difficult to stay in your own lane. Impaired drivers also have difficulty maintaining a constant speed, judging distances, making decisions and are easily disoriented.
Rather than driving impaired, you should take a cab, call a trustworthy friend, have a pre-determined designated driver, or stay at a friend's house. Decide on a safe way home before leaving the house so you are prepared with cab money or a friend knows in advance that you will need a ride.
Do not give into peer pressure when offered a ride from someone who is impaired. Decline the ride, suggest splitting a cab or find an alternate way home.
Motorists can practice intersection safety by slowing down and driving defensively. Watch for pedestrians and obey all traffic signs and signals. Be careful in a left-hand turn when crossing the path of an oncoming vehicle.
Leave enough travel time so you do not feel pressured to speed through yellow lights at signalled intersections.
U-turns are not permitted a

t intersections that are controlled with three-phase traffic control lights (red, yellow, green) unless designated by a sign.
Although many new drivers are learning to drive at the age of 14, it is important to remember that new drivers may also be adult beginners or recent immigrants to Canada. Some vehicles are marked with stickers that communicate to other drivers that they are new to the road, while many do not. Therefore, it is important that you do not tailgate any vehicle, allow others enough room to merge and always signal as a way to communicate with other motorists on the road.
New drivers should remember to drive in the right-hand lane when leaving city limits, allowing others to pass on the left.
Pedestrians are considered vulnerable road users. Both pedestrians and motorists are responsible to abide by all traffic laws, signs and signals to ensure pedestrian safety.
Pedestrians should use pedestrian activated crosswalk signal buttons where present. If a countdown timer starts, or a do not walk signal flashes, do not enter into the crossing and wait for the next crosswalk light sequence.
Pedestrians should be aware of their surroundings, especially at intersections. Make eye contact with motorists before crossing the street, don't text or watch mobile devices, and remove any earbuds or headphones. Be aware of any challenging road conditions that motorists may be experiencing.
Motorists should be careful when approaching intersections. Watch for cars slowing in the lane next to yours because other drivers may be yielding to a pedestrian.
In Spruce Grove, sidewalks and trails are a shared spaces that are used for walking, running, and rolling by people of all ages and abilities and it's important to share the space safely. Be courteous and respectful to others. By working together we can all safely reach our destination.
There are four rail crossings in Spruce Grove located south of Highway 16A:
Pioneer Road/Range Road 271
Century Road
Golden Spike Road
Campsite Road.
All four crossings are signalled and have cross arms that restrict traffic from crossing in front of an oncoming train. Never drive through a cross arm, park or stop on the train tracks, or try to race a train. Remember these rail safety tips:
Trains might look slow - Because of their size, trains appear to be much farther away and travelling much slower than what they actually are. Don't be fooled!
Trains can't stop quickly - The average train needs at least 2 kilometres to stop.
Trains are heavy - An average freight train weighs over 5,500 tonnes. Compare that to a car, which weighs about 1.5 tonnes.
A train hitting a car is like a car hitting a pop can.
Trains can be bigger than the track - Trains can carry loads that are wider than the railroad cars themselves. They can have chains, straps or other equipment that may extend outside the car. If you are standing or driving too close, you could get hit.
Any time is train time - Trains do not always run on schedule. They can run at any time, on any track and come from either direction. Stopped railway cars can move suddenly. 
Before crossing:
Stay alert – don't get distracted by phones, music, or conversations
Stop, look both ways, and listen for oncoming trains
Follow all railway signs and signals
Simply put, speeding is unsafe and illegal. It is dangerous, can cause devastating accidents and may result in ticketing or a suspended licence. For the safety of yourself, your passengers, other motorists and pedestrians, it is important that drivers respect all posted speed limits.
Roads can become icy and slippery in the winter. It is important to slow down and allow enough distance between your vehicle and those around you. Residents are reminded to give City crews and equipment plenty of room to work. When encountering snow removal equipment, slow down and follow at a safe distance until there is a safe and legal opportunity to pass.
Construction and road repair projects are completed throughout the city during the summer months. This can result in reduced speed limits. Slowing down in these areas will help keep construction workers safe and allow you to properly navigate the construction zone.
To reduce the temptation to speed, make sure you leave enough travel time and depending on the time of day, consider traffic volumes before leaving the house.