City Centre Area Redevelopment Plan
The 'city centre' area has long been an essential part of Spruce Grove's community identity; however, over the past twenty plus years as the City has been experiencing substantial new growth the city centre has felt the exodus of businesses and vitality.
Spruce Grove's Municipal Development Plan, in Section 5.3 City Centre, identifies the city centre's revitalization as an important initiative within Spruce Grove, with the objective of creating the City Centre as a mixed use hub of activity with a distinct identity.  The MDP specifically identified the need for an Area Redevelopment Plan to guide these efforts, and that it would focus on:
Small-scale service oriented businesses targets primarily at the local population with a limited regional customer base
Pedestrian orientation
The use of streets as public spaces
Civic and open space uses
Mixed-use development, and
Higher density residential development.
The City of Spruce Grove has engaged a land use consultant to review the city centre area, and to work with the community to figure out what the site's future will be.
City Centre ARP Concept Overview
The City Centre ARP provides a framework to guide future redevelopment considering land use, mobility, urban design, building guidelines, and implementation.  
The ARP concept defines new land use precincts that respect the existing commercial, institutional/recreational, and residential land use character are used to provide guidance toward a desired mixed-use future. 
The major redevelopment initiatives proposed are summarized on the following map: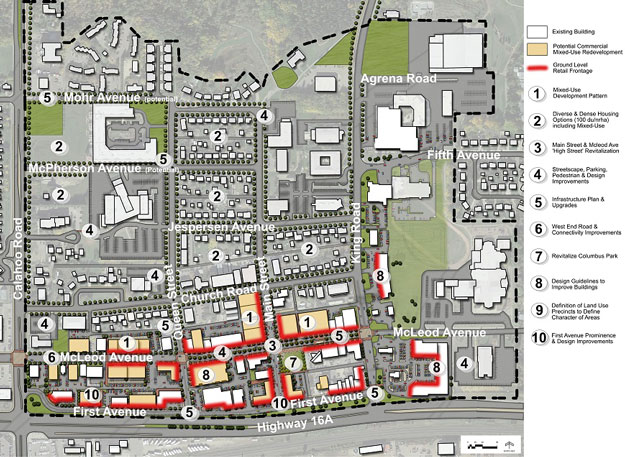 Background Reports
There are a number of background reports commissioned which look at specific issues as part of an overall plan. These background reports were prepared by Cushing Terrell Architecture Inc. and include the following:
Public Participation and Approval Process
2017
Since project commencement in 2017, a series of public engagement activities have been undertaken that have include stakeholder consultations and community involvement activities.  Engagement and consultation has included:
In-person open house questionnaires
On-line surveys
Talk bubbles
200-person consumer intercept survey
Open house "dotmocracy" and "stick-it-to-me" imagery panels
Visioning sessions
One-on-one cafe chat sessions
Council Issues & Opportunities Workshop
Design charrette with styrofoam massing and aerial photo "ideation"
Christmas "Wish List"
Outdoor Winter Fest design charrette
High school surveys
Fall 2018
October 15, 2018 - Committee of the Whole Presentation

The consultants, Cushing Terrell Architecture Inc., presented the City Centre Area Redevelopment Plan - Draft Concept to Council.
Spring 2019
Wednesday, April 3 - City Centre Open House
Tuesday, April 23 - City Council meeting first reading
Monday, May 27
Summer 2019
Wednesday, June 26
Thursday, June 27
Monday, September 16 - Committee of the Whole presentation
Fall 2019
Thursday, November 28 - City Centre Area Redevelopment Plan Open House
Winter 2020
Monday, February 10
For more information
Please contact:
Mark Puczko, Senior Planner
780-962-7634 ext. 249
email