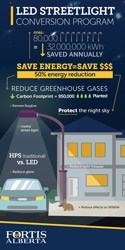 LED Streetlight Conversion Program Infograph 

 
FortisAlberta, an electricity distribution company dedicated to delivering safe and reliable electricity to the homes, farms and businesses of more than half a million customers, will convert streetlights to LED technology in the City of Spruce Grove.
In Spruce Grove, approximately 2,717 high pressure sodium streetlights will be converted to LED technology beginning on or around March 12 with an expected completion date of April 14, 2018. Through these conversions, the City will save approximately 1,043,000 kWh/year, which is equivalent to taking 142 cars off the road; operating 134 homes; or planting 30,600 trees per year.
"Converting to LED technology increases overall efficiency and will allow the City to use less energy," says Patrick Inglis, Manager of Environmental Science and Transit for the City of Spruce Grove. "This partnership with FortisAlberta is an environmentally-friendly initiative that aligns with our sustainability efforts and directly supports the City's Environmental Sustainability Action Plan."
The LED technology FortisAlberta will install offers many benefits including reduced energy consumption, lower costs for customers and a warmer light, resulting in minimal blue light exposure. The current high-pressure sodium bulbs produce a light that appears orange. The new LED lights will produce a whiter light, resulting in a higher light quality that improves safety; these fixtures are dark sky friendly with zero up-light, which means less light pollution and/or sky glow as the light is directed downward.
"This is a huge win for our municipal customers who have been seeking a viable and cost-effective option for their existing streetlights," says Don Hughes, Director, Business Development, FortisAlberta. 
The initial application to convert existing streetlights under the LED Streetlight Conversion program was made in April 2016 and at that time six communities underwent conversions. Another application for an additional 131 communities was made to the AUC and FortisAlberta received approval to continue on March 31, 2017.
Questions?