Council's commitment to the community comes to life in the 2022-2025 Strategic Plan
August 23, 2022
Spruce Grove City Council has approved their 2022-2025 Strategic Plan, which outlines Council's main priorities for their term and provides guidance to City Administration.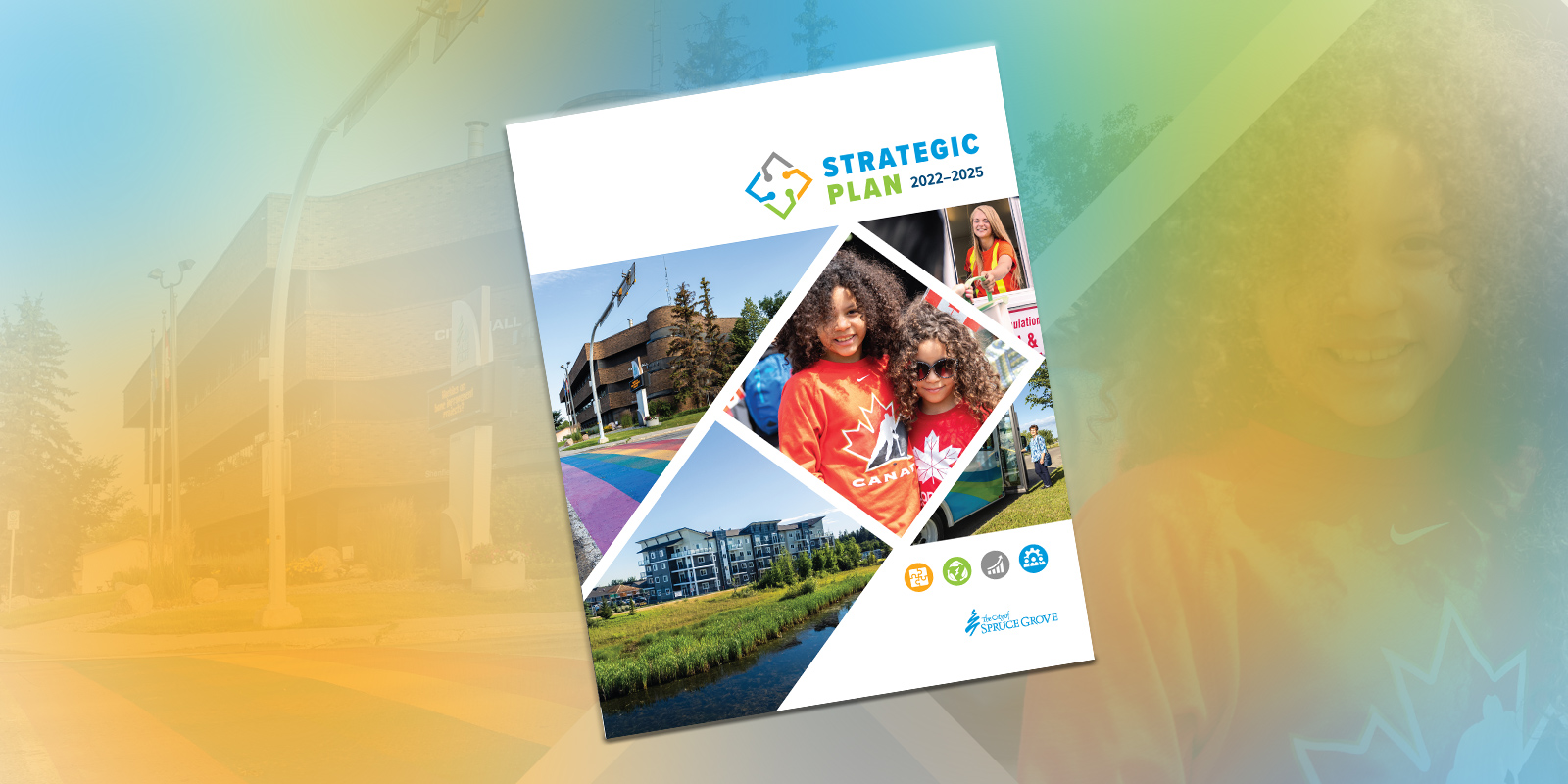 The Strategic Plan captures Council's commitment to the community and is organized into four main themes:
Community Connections
Environmental Sustainability
Economic Prosperity
Governance in Action
Within each of these themes are a series of goals, objectives, and actions. Some of them are more immediate and short term, while others are longer term and will contribute to the outcomes of future Councils. Each goal, objective and action that requires further investment will be considered and assessed through the City's annual corporate planning process.
"Through public engagement and taking what we heard from the campaign trail, we were able to set a clear direction for our term as Council on what we want to accomplish and how we want to lay the foundation for future Councils to build on," said Mayor Jeff Acker. "This Strategic Plan was built with our residents in mind and shows our commitment to building a connected community."
This plan was developed through a series of strategic planning retreats with members of Council and Administration's Corporate Leadership Team. The goal of these retreats was to capture the priorities of Council, incorporating feedback from residents and businesses that was heard through the 2021 municipal election, and provide a clear line of sight to implementing these priorities.
Public engagement was also conducted on the draft plan, and feedback was incorporated into the plan prior to its formal approval. City Council thanks all members of the public who participated in the creation of the Strategic Plan.
"The approved Strategic Plan provides clear direction on where Council wants to lead our community, and it guides Administration as we plan our work for the next four years," said City Manager Dean Screpnek. "We are looking forward to implementing Council's vision by delivering exceptional projects, programs, and amenities to our residents and businesses.
The Strategic Plan is also a living document, which means it will be reviewed annually to ensure it continues to capture the priorities of Council during their term.
To deliver Council's vision as described within the goals, objectives, and actions of the Strategic Plan, City Administration will outline in the 2023-2025 Corporate Plan the resources, projects, and initiatives tied to the Strategic Plan. The Recommended 2023-25 Corporate and Fiscal Plan will be shared publicly prior to Council budget deliberations in November. 
Administration will also share regular updates with Council and the public through Quarterly Reports and Annual Reports, highlighting the operational work done to achieve Council's vision for our community.