Ken Morrison/REMAX Excellence Spray Park
The Ken Morrison/REMAX Excellence Spray Park is open for the season.
Arrive ready to play
Please arrive ready to play! While washrooms and change rooms will be available, users are strongly encouraged to change at home and arrive in their swimwear. 
Rules and guidelines
Children ages 8 and under must be supervised by a responsible person 14 years of age or older at all times.
Shower before entering the spray park.
Dress in proper swim attire.
Swim diapers are required for children who are not toilet trained.
No running in the spray park, as the deck gets slippery.
Do not swing, climb or hang on any of the equipment.
Please keep the following off the spray deck: food and drinks (these can be consumed on grassed areas and in the plaza space), bikes, scooters, roller blades, skateboards, outdoor footwear and water balloons.
Alcoholic beverages and smoking are prohibited.
Pets are permitted on the grassed areas and in the plaza space but NOT on the spray deck.
People with open sores or any contagious condition are not permitted in the spray park.
The City is not responsible for lost or stolen possessions. Please leave valuables at home.
The City reserves the right to close the spray park and immediate areas due to weather, mechanical issues or other circumstances as deemed by spray park staff.
Failure to comply with these any of these rules may result in being asked to leave the spray park.
Staff on site
City staff are on site during most spray park operating hours. These staff ensure user safety, monitor the park's water quality, perform maintenance, and provide overall supervision of the site. If you need assistance while at the park, you can easily identify City staff by their blue shirts and/or orange vests. Staff may not be on site during all operating hours. During these times, adult supervision is required for all minor users. The equipment contains sensors and will start automatically when users enter the park.
Splash pads
In addition to the spray park, the City also has two, unstaffed splash pads:
The Central Park splash pad

 

is located near the Lions Log Cabin in

 

Central Park.
Fuhr Sports Park splash pad is located at the front entrance of

 

Fuhr Sports Park.

 
Potential impacts to spray park operations
Please note that the spray park may be closed due to the following factors:
Inclement weather
The spray park will be closed if the temperature is below 15C, there is sustained rain or the air quality index is at a 10 or higher. Additionally, the park may close if the air quality index is between a 7 and 10, and if there has been an accompanying special message for outdoor activity issued by Alberta Environment.
Mechanical issues
If at any time, the spray park can't be operated safely due to mechanical failure, it will be closed until staff can ensure user safety.
Water quality
If at any time, staff are not able to maintain the water quality in a safe manner, the spray park will be closed.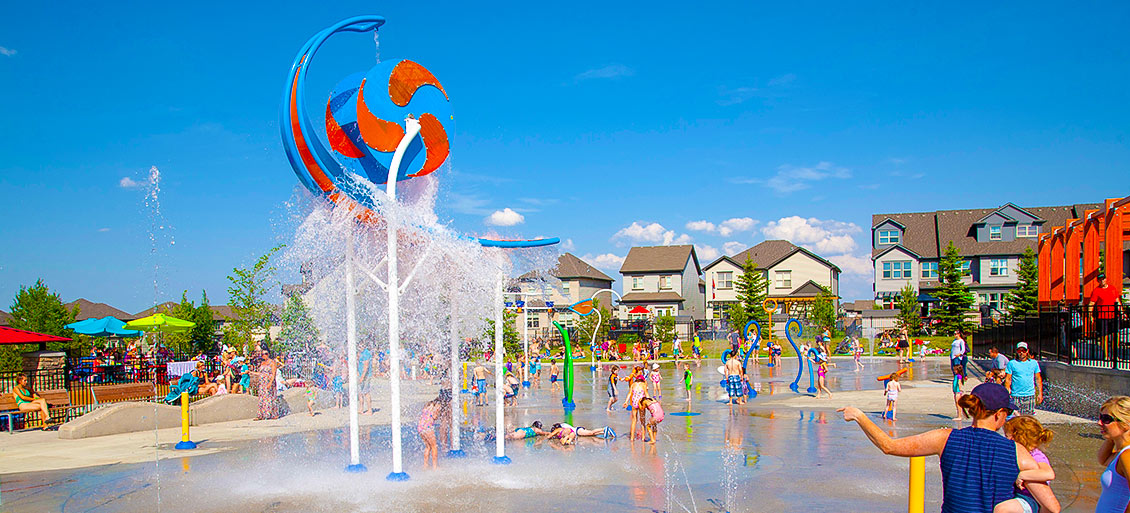 Address
Spruce Grove, Alberta T7X 0A7
Hours of operation
May 24–June 14: 12–7 p.m.
June 15–Aug. 31: 10 a.m.–8 p.m.
Sep. 1–15: 12–7 p.m.
**July 1: 12–8 p.m.**