Ken Morrison/REMAX Excellence Spray Park
Keep cool during the summer months with a trip to the Ken Morrison/REMAX Excellence Spray Park!
Features
The spray park was designed to include features and activities that would appeal to residents of all ages, including:
More than 50 interactive play features.
A designated toddler zone for ages five and under.
A passive family zone for ages five and up.
An active family zone for those who want to really get soaked!
Change rooms and wet/dry bathrooms.
Outdoor showers.
A plaza space with seating, tables and a dry area.
Facility rules
When using the spray park, please keep these facility rules in mind.
Staff on site
The spray park has City staff on site during regular operating hours. These staff are responsible for monitoring the park's water quality, keeping the space safe and clean, and overall supervision of the site. If you need assistance while at the park, you can easily identify the staff on site by their green shirts.
Birthday parties
Want to hold your child's birthday party at the spray park? No problem! Just keep in mind the spray park – like all public parks in Spruce Grove – is a non-bookable space and can't be reserved, which means you can throw a party, but you'll also be sharing the spray park with everyone else who wants to be there that day.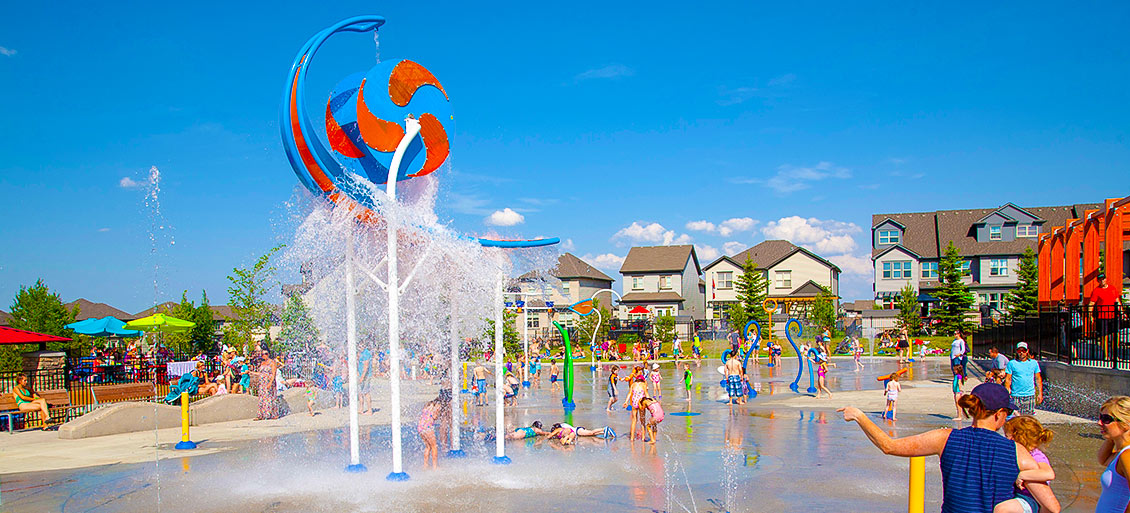 Be prepared!
Plan ahead and consider packing these basics with you when you come to the spray park:
Sunscreen. It's hot outside. That's why you're at the spray park. The water will cool you down, but it definitely won't protect you from those UVA/UVB rays. Slather on accordingly.
Snacks and beverages. You can eat at the spray park, just not on the spray deck. There is no canteen on site, so bring your own food and drinks to stay hydrated and keep the munchies at bay.
Towels. Lay on them in the grass and use them to dry off after playing in the spray.
Shade. Small shade tents and umbrellas are welcome on the grassed areas.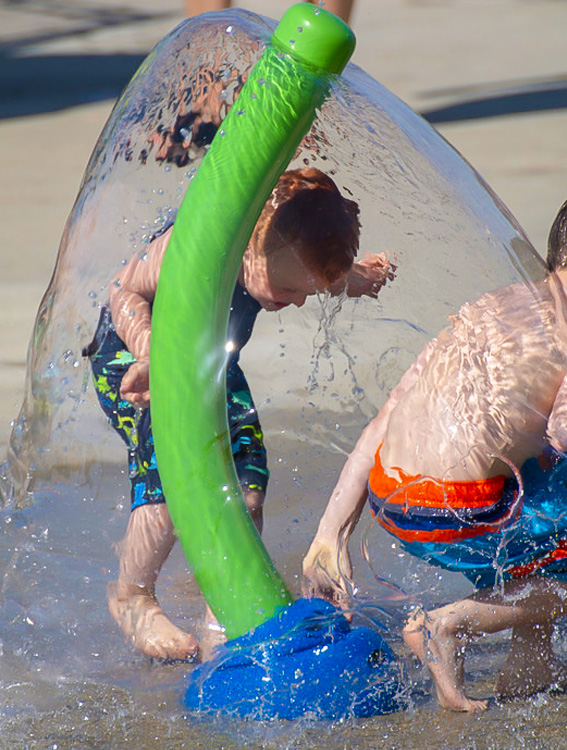 Keeping it green – and safe
Designed to be water and energy efficient, the spray park has a recirculating water system. When the park is operating in recirculation mode, 100 per cent of the water is collected, filtered, disinfected and balanced before being reused. As an added benefit, this means the park can still operate in times of water restriction, as long as it's in recirculation mode.
There is also the flexibility to temporarily switch the spray park out of recirculation mode, which can be necessary in situations including a rain event (this can overly dilute the water), a water contamination issue or a required repair to maintain service.
At all times the spray park is using recycled water (recirculating mode), a certified pool operator must be on site or on call and able to respond. As well, in order to operate the park, the City must secure and maintain a permit from Alberta Health Services.
Splash pads
In addition to the spray park, the City also has two, unstaffed splash pads that operate during the summer months:
Central Park splash pad, located near the Lions Log Cabin in Central Park
Fuhr Sport Park splash pad, located at the front entrance of Fuhr Sports Park