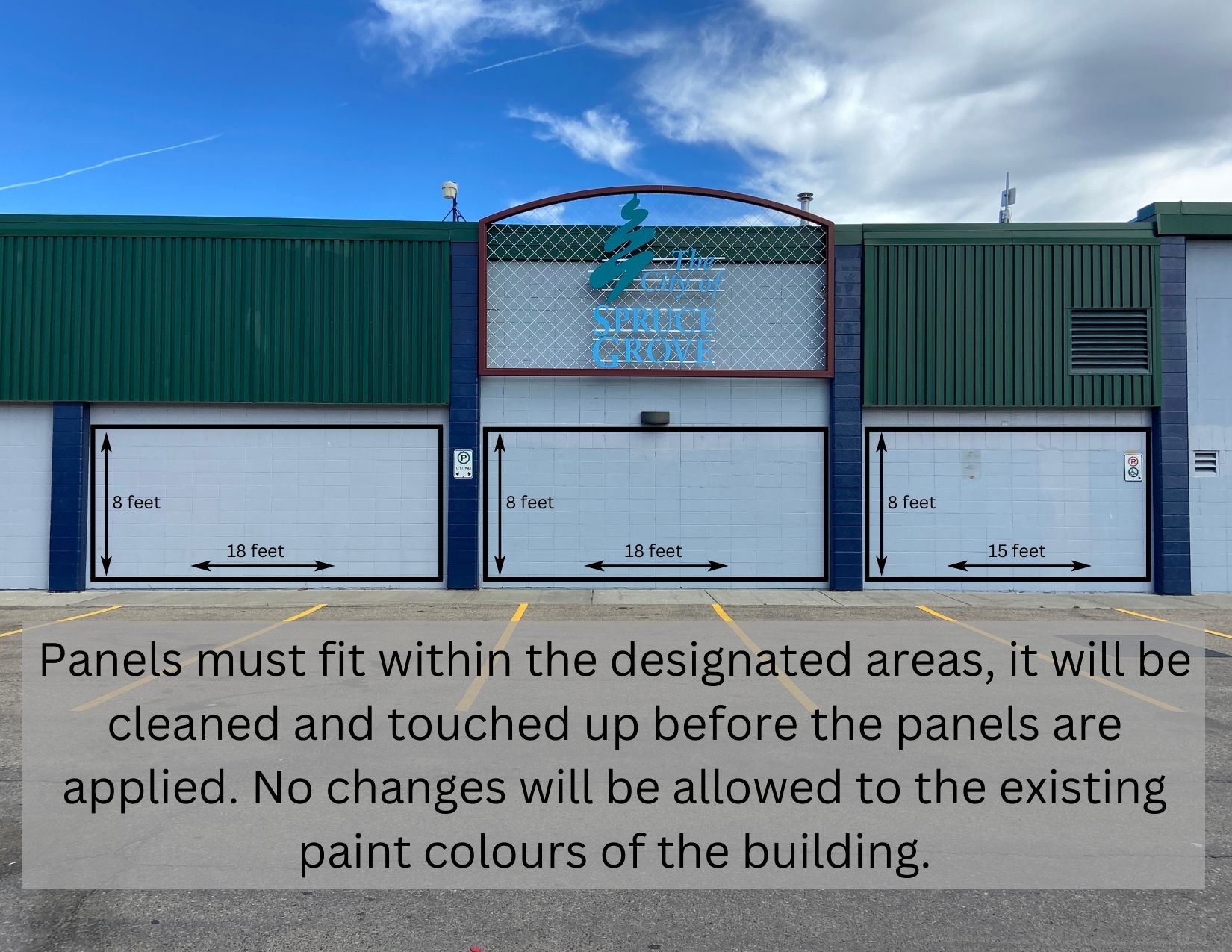 The City of Spruce Grove is proud to support the creation of public art throughout the community. Several murals have been completed in recent years, which add to the beauty of our public spaces and bring people together to celebrate the heritage, history and values of our community.
See our existing murals
2022 Call for Artists
In partnership with the Allied Arts Council of Spruce Grove, the City invites artists (individuals or groups) to submit a proposal for the creation of Spruce Grove's next public mural. To celebrate our community's rich agricultural history, and the 50th anniversary of the Spruce Grove Agricultural Heritage Society, the theme for the mural is Honouring Spruce Grove's agricultural history in a modern way. The artist(s) will create a paneled mural to be installed on the west wall of the Agrena at 452 King Street. See the site photo. Paneling will be purchased and provided to the artist by the City.
Important dates
Applications open: December 15, 2022 - complete
Applications close: January 15, 2023 (11:59 p.m.) - complete
Successful applicant(s) notified: On or about January 31, 2023 - complete
Mural painting completed: On or before March 3, 2023
Mural install completed: Week of March 13, 2023
Final touch-ups: On or before March 17, 2023
Public unveiling: TBA
The mural must:
Be neutral in content 
Be of a subject matter that is relatable to the general public (additional consideration will be given to pieces with interactive/photo opportunity components included in the design)
Incorporate the two wall columns which are navy in colour and cannot be altered
Be a maximum of 30 ft. wide by 20 ft. tall
Be a minimum of 400 sq. ft. (ideally 400-600 sq. ft.)
*Refer to the site photo for more details
The artist(s) must:
Be a Canadian resident and at least 16 years of age
Have experience working in large scale (paneled mural experience is an asset)
Provide an off-site workspace to complete the project
Paint and seal the panels to protect them from the elements
Be willing to perform touch-ups after installation, to cover up installation screw holes. (The City of Spruce Grove is able to offer assistance in installation)
Be willing to be filmed/photographed, interviewed and collaborate with the City and AAC for publicity and social media purposes
Be willing to spend time meeting with members of City Council and the public during the installation and touch-up period
Make their own travel/mileage and accommodation requirements to pick up, deliver and install the panels
Be available for the public unveiling (date and time TBD) which may include media coverage.
The Public Art Selection Committee will choose the successful artist(s) to complete the mural. The committee is made up of members from the City of Spruce Grove, the Allied Arts Council of Spruce Grove, the Spruce Grove Agricultural Heritage Society and members of the public. When making it's decision, the committee will consider the following:
Artistic merit
Artist qualifications
Artistic theme
Artistic value
Collaborative work
Interactive/photo opportunity elements
Budget
The budget for this project is $7,000. The artist(s) will be responsible for managing and allocating this budget which includes compensation for:
The artist's time/fees (planning, meeting, creating the mural, installing the panels)
Paint, materials and any additional equipment or supplies needed
Insurance
Travel/accommodation expenses
Participating in interviews and promotional activities
Before applying, prospective artists should use the following application checklist to ensure their submission is complete. 
Description of artistic practice and your vision for the project (one written page)
Proposal images
Resume of artwork experience (previous work in large scale is considered an asset)
Portfolio of relevant work (3-5 images)
Two professional references (including name, email and phone number)
Budget proposal
Artists should email their application package (accepted file formats: doc, jpg, png, pdf) to publicart@sprucegrove.org with the subject line "Application for Mural Project". Applications are due on or before Sunday, January 15, 2023 at 11:59 p.m. Mountain Standard Time.
The successful applicant will need to sign a Media Release form and a Letter of Agreement, which defines the roles, rights, and responsibilities of the artist(s), landlord, City of Spruce Grove and AAC, as well as maintenance, copyright and safety considerations.
Questions?
Email Ranya Hadab, Art and Culture Program Specialist with the City of Spruce Grove, at publicart@sprucegrove.org.